Gli outlet in Toscana: indirizzi e informazioni
Dopo un emozionante viaggio nella più autentica tradizione fiorentina, l'ideale è immergersi nell'alta moda del made in Italy . Il nostro servizio Firenze Outlet Tour vi porterà nei migliori outlet toscani; THE MALL ( Gucci , Giorgio Armani , Bottega Veneta ,Fendi, Sergio Rossi , Yves Saint Laurent , Loro Piana , Giorgio Armani , Emanuel Ungaro , Valentino , Ferragamo , Ermenegildo Zegna , La Perla , Tod's , Hogan), DOLCE & GABBANA, THE OUTLET STORE, PRADA, VICTORIA OUTLET e finalmente anche a Barberino per il tour di MC ARTHUR GLENN OUTLET.
Dove potrete fare shopping con sconti fino al 70% sui prezzi di listino.
Accompagnati ovviamente, dai nostri professionali autisti , sui nostri automezzi dotati di ogni comfort.
Le partenze per gli Outlet sono previste dalla maggior parte degli hotel di Firenze, oppure da Piazza della Repubblica o dalla Stazione Centrale S. Maria Novella dal lunedì al sabato.
Il più esclusivo e raffinato outlet della Toscana
Probabilmente il più famoso outlet nella zona di Firenze, una raffinata location dove potrete trovare le più importanti marche come Gucci outlet e Ferragamo outlet. Molto conveniente ed interessante, anche dal punto di vista del risparmio in quanto le marche "minori" come Armani Jeans hanno prezzi molto competitivi con qualsiasi negozio che possiate trovare nei centri cittadini ed in alcuni casi veramente basso.Consigliato soprattutto nel periodo dei saldi quando anche i negozi più importanti come Gucci ed altri arrivano a scontare sino al 70%
Alla ricerca di pezzi unici ed occasioni formidabili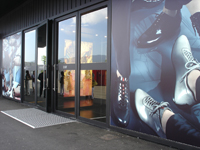 Questo outlet viene reputato dai nostri ospiti uno dei più convenienti in assoluto, se si ha la fortuna di trovare quello che si vuole ci sono ottime possibilità che sia un vero affare, in quanto queto outlet a Montevarchi è giusto a fianco della fabbrica di Prada e le merci ed i prodotti di Prada vengono sostituiti e riassortiti quasi giornalmente con i pezzi provenienti dalla fabbrica, a differenza di Gucci che per il suo outlet ha una produzione parallela dei capi. Nell'oulet di Prada si possono trovare altre importanti marche come: HELMUT LANG - MIU MIU - PRADA SPORT - JIL SANDER.
Più di cento grandi marche italiane in una cornice stupenda, un villaggio dello shopping conosciuto come Mc Arthur Glenn Outlet in Toscana.
Una nuova conzione dello shopping a Barberino dove si trova l'outlet di Mc Arthur Glenn: una piacevole giornata tra centinaia di negozi e famose marche a prezzi scontatissimi, ottimo anche solo per una visita con la famiglia senza necessariamente spendere un capitale in grandi marche italiane.

Bric's Store, Brooksfield, Bruno Magli, Calzedonia, Caractère, CK Jeans, CK Underwear, Coccinelle, Collezioni in Cachemire, Cotton Belt, Elena Mirò, Fornarina, Gas, Golden Lady, Griogioperla, Guess, Guess Accessories, Guess Kids, Guru, John Ashfield, K.I.D.s, La Casa Italiana, L'Altramoda, Les Copains, Levi's-Dockers, Massimo Rebecchi, Maui Bear, Missoni, Nautica,Pal Zileri, Pinko, Piquadro, Pollini, Prada, Puma, Pupa Outlet, Segue, Sergio Tacchini, Sia,The Bridge, United Colors of Benetton.
Dolce & Gabbana Outlet
Moto vicino a The Mall sarà una piacevole sorpresa una visita all'outlet Dolce&Gabbana di Firenze.
Soprattutto per gli amanti di Dolce&Gabbana sarà molto interessante trovare la loro marca preferita con forti sconti ed offerte, outlet ben rifornito che abbraccia tutti i gusti: dai pezzi più classici come i completi dal taglio unico e raffinato sino ai pezzi più eccentrici che sono un must della famosa marca.
Un capitolo a parte va alla lingerie di Docle&Gabbana,al settore Bimbi e agli accessori D&G sul quale si incontrano sempre più che ottime offerte in questo outlet.